Where Can I Find
Pre-Purchase Car Inspection Near Me
?
Buying a new vehicle is an exciting time but it can also be an overwhelming experience for customers old and new. It's important to do your research before you go shopping. Regardless if you're purchasing from a dealership or a private party, it's essential to have a pre-purchase inspection performed. Spending a small amount of upfront could save you thousands in costly repairs over the long run.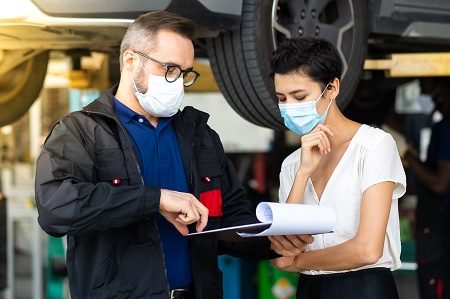 "Do I really need a Pre-Purchase Inspection done on a newer car?"
Yes. Sadly, it's not uncommon for a vehicle to be sold advertising a clean title after it's been in an accident. Through an auto pre-purchase inspection, technicians at Ron's Auto and RV will take their time to review signs of restored flood and accident damage. New cars are also not exempt from mechanical issues. Depending on how the previous owner maintained the vehicle it could have more wear and tear than its year suggests.
"I'm buying from a dealership – I feel weird taking it offsite to have a pre-purchase inspection done."
A pre-purchase inspection is very common service provided by auto repair shops and any reputable dealership will have no problem with you getting a professional opinion. If someone is fighting hard to convince you a pre-purchase inspection is unnecessary you should ask yourself, "Why?" Pre-purchase inspections is quick and can help you on the road to making an informed decision. Ron's Auto and RV is located in Vancouver and serves Battle Ground, Washington as well as the surrounding areas, providing thorough visual inspections and professional service.
What will you look for during an auto pre-purchase inspection?
We look for signs to see if what you're buying is what they're advertising as well as underlying factors that could be trouble for you in the near future. The list below shows a small range of things we look at during a pre-purchase inspection.
Frame Damage – Has this vehicle been in an accident before?
Flood Damage – It's more than the wet carpet we're looking for. Most vehicles have many computers in them these days and flood damage will most certainly compromise them.
Repair work gone wrong – Does this vehicle have repairs done incorrectly on it that will cost you money?
Under the hood – We will look for any looming engine trouble as well take a look at the condition of the belts, hoses, and fluids.
Alignment -A vehicle's alignment can have a serious effect on overall wear and tear, including the tires.
Answer your questions – Here at Ron's Auto and RV of Vancouver, our pre-purchase inspection process is designed to put your mind at ease so you can buy with confidence – or not!