Experts at Diesel Truck Repair & Gas Truck Repair
Vancouver WA – Battleground WA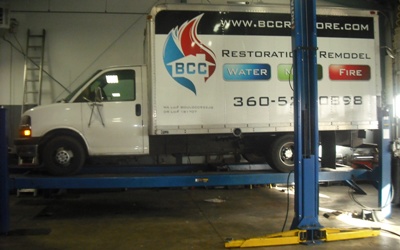 Here at Ron's Auto and RV Service Center, we are licensed experts when it comes to servicing medium and light-duty trucks. We provide comprehensive truck care services including diagnostics, regular maintenance services, repairs, and installation for all makes and models, both foreign and domestic. By maintaining your truck with us regularly, you will avoid large repair bills and ensure the longevity of your truck. Being without a vehicle can interrupt your schedule and cause undue stress. If you need an oil change or something more, you can count on us to do the job right the first time. Below you will find additional information about the medium and light-duty truck services we provide. Please contact us for more information about or to make an appointment to drop off your truck.
Ron's Auto and RV medium and light-duty truck repair services:
Regularly scheduled fleet maintenance
Engine diagnostics
Engine repair services
Engine replacement
Exhaust systems
Brake system inspection, repair, and installation
Emission problems/repairs
Drive train repair and replacement
Differential services
Transmissions and clutch repair
Electrical services
Starting system repair and replacement
Cooling system repair and replacement
Power steering system repair and replacement
Fuel system repair and maintenance
Air conditioning repair and replacement
Much more!
We want you to fully understand what service or repairs need to be done and to feel confident that we are giving you the best service possible. Ron's Auto and RV Service Center is dedicated to customer service excellence and we are sure you will be satisfied with our high-quality truck repair and maintenance services for your medium or light duty truck.
Servicing and Repair of:
Ford F-150 | Ford F-250 | Ford F-350 | Ford F-450 | Ford F-550 | Ford F-650 | Ford F-750 | Chevrolet 1500 | Chevrolet 2500 | Chevrolet 3500 | Chevrolet 4500 | Chevrolet c5500 | Chevrolet c6500 | Chevrolet c7500 | Dodge 1500 | Dodge 2500 | Dodge 3500 | Dodge 4500 | Dodge 5500 | Dodge 6500 | Dodge 7500 | Dodge Ram | Isuzu NPR, NRR, NQR | Isuzu Reach Van | Nissan UD | Nissan NV Cargo Van