It's always stressful to get your car fixed. Not only do you have to worry about the cost of the repairs, but you also need to find a reputable and trustworthy auto repair shop. With so many options to choose from, how can you be sure that you're making the best decision for your car?
Here are a few things to keep in mind when choosing an auto repair shop:
Look at Reviews
Make sure to ask your friends and family for recommendations. They may know of a good shop that they've used in the past. If someone you already know and trust recommends a place, that extra vote of confidence can give you increased peace of mind.
Online reviews can also be a helpful resource. Look for auto shops that have positive reviews from customers. Checking out what others say about their experience can give you a good sense of what to expect. Keep in mind that everyone's experiences are unique, so take the reviews with a grain of salt. But if a shop consistently has good reviews, it's likely worth considering. Other factors to remember when choosing an auto shop include location, price, and services offered.
Look For a Well-Established Shop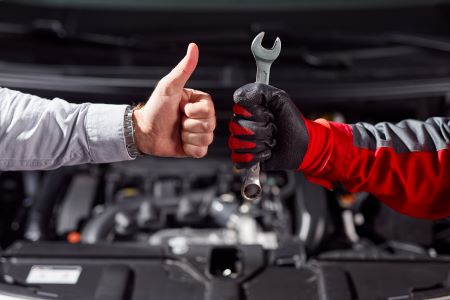 If an auto repair facility has been around for many years, that is generally a good sign that they know their stuff. This isn't to say that a newer shop won't give you quality service, but if an auto service has withstood the test of time, they're probably well-respected in their community and have a long list of happy clients to vouch for them. You depend on your car functioning properly; you want to be sure you're making a good choice in automotive repair service. It's best not to take chances. Go for the surer bet.
Be sure to ask about the mechanic's experience and qualifications as well. Ideally, a shop that has been around for a while will only hire experienced mechanics with a proven track record themselves. The shop should also have experience with your type of vehicle. It's a good idea to make sure your auto mechanic has worked on your specific make or model before bringing it in. That way, you know you're leaving your car in capable hands.
Customer Service
You might not think of it right away, but the way a company talks to its clients can be indicative of the quality of its service; customer service is the first chance a company has to welcome new patrons. If they're impolite or unprofessional on the phone, it might not be worth working with them. If something goes wrong with your repair, unhelpful customer service can quickly become a real headache.
The shop should be able to answer any questions you have about the repairs. When you bring your car in for repairs, you should feel confident that the shop will be able to answer any questions you have honestly. After all, they are the experts! A good shop will be happy to explain the work that is being done on your car, and they should be able to address any concerns you have. If a shop cannot answer your questions or is evasive when you ask them, it may be a sign that they are not reputable or trustworthy.
Get Multiple Estimates
Once you've narrowed down your choices, get estimates from each shop to see who offers the best value for the repairs. First, consider your budget. How much can you afford to spend on repairs? One of the most important things to consider when taking your car to the shop is how much you're willing to spend. You might be surprised by how quickly the bill can add up – and that's before they even start talking about additional services or repairs that your car might need. So before you bring your car in, be sure to set a budget for yourself.
Be sure to get a price quote before authorizing any work, and get an estimate in writing so that you can compare prices between different shops. A written estimate will also assure you that the repair shop will stick to its word.
Ask About Warranties and Guarantees
To ensure that your car is in good hands, it's essential to choose a shop that has a good reputation and is certified by the National Institute for Automotive Service Excellence (ASE). You should also make sure that the shop offers a repair warranty on their work. This will protect you in case something goes wrong with your automotive repair.
When you take your car to an auto repair service, you want to be sure that you get the best service possible. One way to do this is to ensure that the shop offers a warranty on their work. This will protect you in case something goes wrong with the repairs. If the shop does not provide a warranty, you may consider taking your business elsewhere. It's always best to play it safe with your vehicle.
Call Ron's Auto & RV!
Ron's Auto and RV is the place to go for all your auto repair service needs. We have ASE-certified mechanics trained to work on foreign and domestic vehicles. No matter what type of car, truck, RV, or van you have, we can help. We are factory-trained specialists for Honda, Ford, Subaru, and many other makes and models of vehicles. This means that we know the ins and outs of each make and model and can provide outstanding service.
We will solve your auto problems or help you prevent them. Our expert technicians are passionate about cars and are dedicated to providing honest repairs at a fair price – and we offer a repair warranty as well. Whether you need brake inspection, new quality tires, AC repair, or – anything, really, we've got you covered. Check out our website for a full list of services and vehicles we work with – and give us a call for all your auto repair needs.